Social Pilot Review - Does It Really Work?
Are you looking for more information about Social Pilot and is this really a social media accounts management tool with automated post scheduling and many other unique features that every serious marketer should have? This is a tool that helps manage various channels including Instagram, Facebook, LinkedIn, Twitter, Pinterest, Google+ Tumblr, Google My Business, Xing and VK. The services that they offer include automated publishing, analytics, content management, conversion tracking, post-scheduling and multi-account management.
The price plans of Social Pilot include the following:
Professional ($30/mo, or $25/mo billed annually) — At Social Pilot's lowest level subscription, you can manage 50 social accounts, make 200 posts per day with up to 2,500 posts in the queue.
Small Team ($50/mo, $41.33/mo billed annually) — 100 social accounts, 500 posts per day, 5,000 posts in the queue
Agency ($100/mo, $83.33/mo billed annually) — 200 social accounts, 1,000 posts, 10,000 in the queue
Enterprise (Custom Pricing) — For clients who need to do more than the other plans allow for.
Social Pilot is aimed at a wide audience given their wide range of pricing options, and they have many segments of users including small businesses up to large enterprises. Their features are also available to all types of users, and they only vary by the scale that each plan provides the user with.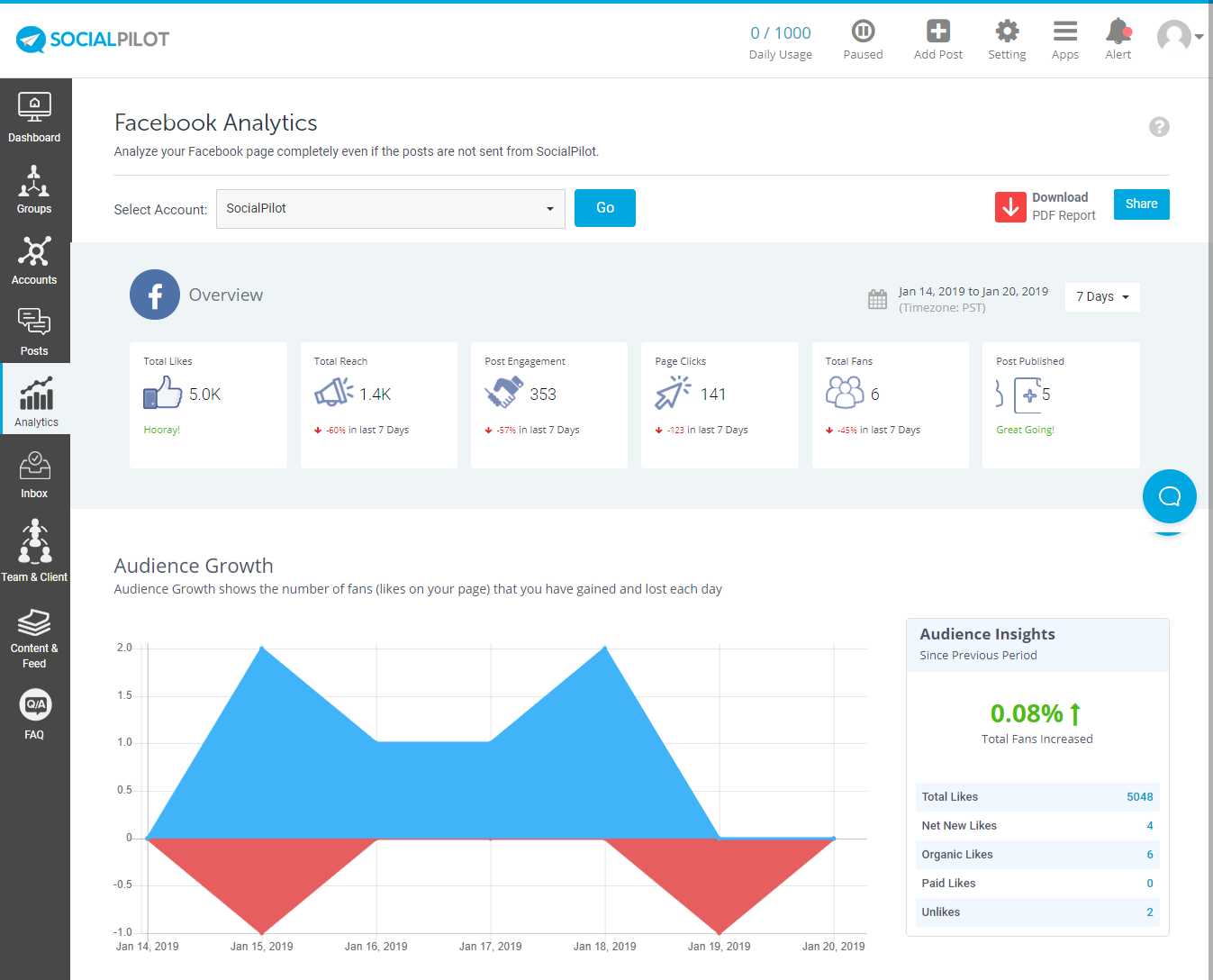 Full Social Pilot Review here! at https://scamorno.com/Social-Pilot-Reviews/?id=gho
What Are The Top Users Of Social Pilot?
Connect with more than 100 profiles and up to 500 posts through a single Social Pilot account
Connect to more than 9 social media networks including Facebook, Twitter, Instagram, Google My Business, LinkedIn, Pinterest, Tumblr, TikTok and VK
Add up to 5 team members to delegate your scheduling and sharing tasks using the Team Collaboration function
Use the Social Inbox to manage your social media conversations
Analyse your social media activities with Social Pilot's reporting and analytics
Create customisable posts for individual social accounts while also mentioning other Twitter and Facebook profiles to get more engagement
Add RSS feeds and curated content for a never-ending queue of new content ideas
Check out your social media calendar to see what you have scheduled visually
URL shorteners are provided to remove unwanted, long and ugly looking URLs into more readable ones.
Create customised branded domains for greater recognition and visibility
Use the Client Management feature to simply invite your clients' to share their social media accounts effortlessly, without having to invite them
Boost your Facebook posts immediately upon scheduling it.
What Are Social Pilot's Integrations?
Social Pilot keeps their integrations simple, and they mainly revolve around the following categories (URL shortening with Sniply, Rebrandly or Bitly, sharing feeds with Feedly and creating images with Canva. While its list of integration is pretty short compared to its main competitor Hootsuite, it really makes up for it by including Zapier integration. This means that it can then integrate with 100s of other apps that your team might already be using...
Full Social Pilot Review here! at https://scamorno.com/Social-Pilot-Reviews/?id=gho